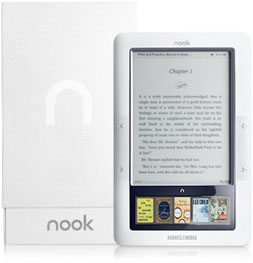 I just can't decide if I would like a Nook (or Kindle)
There is something very satisfying
I like to slowly peruse the cover
for details of the story.
I enjoy breathing in the smell of a book,
and seeing what the author looks like.
I find reading a book to be very
either curled up on the couch or
or even bundled up in bed
There's just nothing quite like it.
My hands get tired from the weight of
In fact, they have strained my thumb
so much I have needed two
cortisone injections to alleviate the intense pain.
The other issue is what to do with
all of the books, once they've been read.
I'm not one to reread books.
but they eventually come back to me.
I do donate many of them.
A great many just sit and collect dust.
One area I'm having a problem with is the cost.
Yes, books for the Nook (or Kindle)
And I feel like I'd have nothing concrete
to show for the money I would spend on books.
I could store around 3500 books
But do I really need to store so many?
I could share them with other Nook readers
and they could share their books with me.
I don't like time frames and
you can only share the books for two weeks.
any pros and cons you may have,
maybe they would help me make my decision.
I doubt Shakespeare ever thought
"To Nook or Not to Nook!"
I'd like to send a huge shout out to Kandi from
She was kind enough to pretty up my blog for me.
Check out her blog some time.
She has darling stories to tell of
her husband, two adorable daugthers