Do any of you know what mincemeat is?
It was a favorite Christmas treat in my family.
However, I am not included in that list.
Here's what it looks like.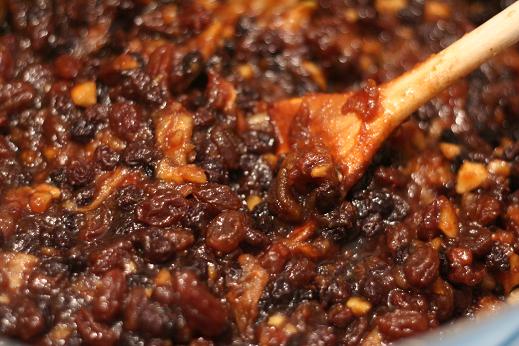 Here's what's in it:
Venison
Suet
Currants
Raisins
Citron
Lemons
Salt
Pepper
Apples
Cinnamon
Ginger
Nutmeg
Cloves
Sugar
Cider
Butter
and
Molasses
Now, if you can believe it,
this mixture is used to make pie!
Yes, you read that right.
Pie...as in dessert.
I completely understand if you are turning up your nose right now.
As I said, I don't like it either.
It has turned into one of my favorite Christmas memories though.
I will explain.
You may purchase mincemeat in a jar at the grocery store.
I remember my Mom using it from the jar when
she made pies.
My Dad really loved mincemeat.
He often talked about his mother's homemade mincemeat.
So one year, for Christmas,
I decided I would make the homemade stuff for Dad.
There are so many ingredients (and a lot of each one) that I had
to use a stock pot to make it.
It wasn't cheap either.
I added ingredients as listed.
And I stirred.
And I let it boil.
Then I packed it into mason jars and processed it.
I wrapped up a few jars for my Dad
(and a brother and sister that loved it).
I couldn't wait to see Dad open it on Christmas Eve.
You see, it wasn't easy to find something to buy for my Dad.
This meant a lot to me and I hoped it would mean a lot to him.
As vividly as if it were yesterday,
I can still see my Dad shining like a star in the night
when he opened up that present and realized what it was.
To me, he looked like a little boy receiving his most prized possession
from Santa Claus.
I have never given a gift that was so happily received.
I think that was the year I really understood how much fun it was to
give.
I wish I could give something to everyone I know that would
bring them that much joy.
I sometimes wish I had a picture of my Dad that night.
Yet, it's so ingrained in my memory, I shall never forget it.
It was magical.
The first magical moment I experienced as an adult.
The first magical moment I realized that giving can be better than receiving.
That was the last gift I ever gave my Dad.
He wasn't with us the next Christmas.
How glad I am to have had that opportunity.
Since I no longer have a hunter in my life,
I haven't made mincemeat since.
But what sweet thoughts I have whenever I think of it.